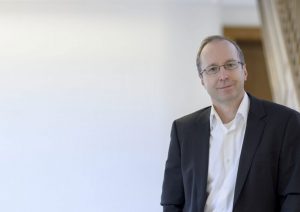 Prof. Dr. Laurenz Czempiel is Speaker at the IPE Real Assets Conference on 17.10.2018 in London
At this year's IPE Conference on the London Stock Exchange, the Management Board of Ventusolar Global Capital will present promising long-term investment options in the field of renewable energies with focus on wind and PV in Canada.
Munich/London. Prof. Dr. Laurenz Czempiel, Managing Director and CIO of Munich-based Ventusolar Global Capital GmbH, part of the German-Canadian Ventusolar Group, is a speaker at the "IPE Real Assets & Infrastucture Conference 2018". His topic will be the influence of technology development on the industry and the associated long-term promising investment options, especially in the field of renewable energies with focus on wind and solar in Canada.
This year's IPE Real Assets Infrastructure Conference will take place on 16 and 17 October 2018 at the London Stock Exchange. The annual event is an important industry meeting for institutional investors. The focus is on identifying options with sustainable return potential. Leading experts and industry professionals will discuss forward-looking topics ranging from market pricing, investment approaches and performance measurement to global trends, regulation and policy issues.
About Prof. Dr. Laurenz Czempiel:
Prof. Dr. Laurenz Czempiel studied economics at the University of California, Santa Barbara as well as at LMU in Munich, where he received his Ph.D. on political risks in foreign exchange markets. As an economics assistant, he taught courses in macroeconomics, money, credit and currency. Prof. Czempiel worked as a financial consultant at the Merrill Lynch International Private Banking Group and joined Reuschel & Co Privatbankiers in 1996 as head of Family Office. In 2005 he became General Partner and was responsible for the segments of "Private Wealth Management" and "Asset Management". From 2010-2016 Prof. Czempiel was a member of the Executive Board of DONNER & REUSCHEL AG with responsibility for asset management, capital markets and institutional clients. He has been Managing Director and CIO of Ventusolar Global Capital since 2017, and is also a lecturer in International Finance and Portfolio Management at the Munich Business School.
About Ventusolar Global Capital (GmbH)
VENTUSOLAR GLOBAL CAPITAL GmbH is a German-Canadian company and has its head office in Munich, Germany. The main shareholders of the company are the management partners along with an institutional shareholder, the Gabler-Saliter Bankgeschäft AG. VENTUSOLAR GLOBAL CAPITAL GmbH is an investment advisor with an experienced management team. Together with its partners, VENTUSOLAR GLOBAL CAPITAL provides institutional investors with access to Renewable Energy assets. VENTUSOLAR's network includes local project developers, authorities and energy suppliers as well as international EPCs (engineering, procurement and construction) and manufacturers of solar panels and wind turbines.