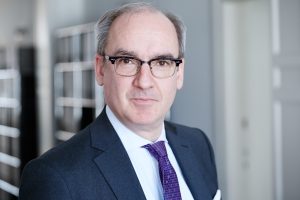 Munich/Bonn. Effective immediately, Prof. Hanns-Ferdinand Müller (52) will be actively supporting the activities of Ventusolar Global Capital GmbH.
Müller, CEO of FORIS AG and honorary professor at the International School of Management in Dortmund, has many years of expertise in the energy industry, serving as CFO and CEO of RWE Vertriebs AG until 2014. "I am delighted to be part of shaping Ventusolar's path and to have this opportunity to support and advise the company, which has experienced great success, particularly in the renewable energy market in North America."
Sven J. Matten, CEO of Ventusolar Global Capital, had this to say about the appointment of Hanns-Ferdinand Müller: "Prof. Müller's commitment is a great honor for Ventusolar. It is another confirmation that our company is on the right path." Based on his experience and contacts in the energy sector, Müller was going to be a "valuable asset for Ventusolar Global Capital", he added.
As recently as March 2018, the former Bavarian Minister for Science and the Arts, Dr. Wolfgang Heubisch, was appointed to the Advisory Board of Ventusolar Global Capital. Additional board members include Advis Arturo Herrero, CEO of Alter Power AG and Dr. Thomas Tomkos, Managing Director of Russell Reynolds Associates.
At the beginning of 2018, Ventusolar Global Capital GmbH (VGC), a specialist for renewable energy investment, teamed up with the LRI Group from Luxembourg in the latter's capacity as fund manager to launch two funds within the framework of a Reserved Alternative Investment FCP structure (RAIF), with VGC playing the role of initiator and investment advisor. Together with its Canadian sister company, Ventusolar Inc., the Munich-based company offers these two funds to institutional clients, providing them with access to projects and facilities in the fields of wind, photovoltaics (PV) and hydropower, with the geographical focus on Canada, but also the United States. All projects and facilities are subject to external due diligence reviews by the independent auditing company Rödl & Partner on the basis of German standards.
With a projected return of 6% per annum, the Ventusolar Green Energy I fund invests in onshore wind, PV and hydropower companies (SPVs) with plants already in operation, mainly in Canada. The second fund, Ventusolar Green Development I, focuses on investments in project developments involving wind and PV systems, primarily in Canada, targeting an annual return of 12%. Both funds are exclusively aimed at professional investors (including tax-exempt investors) such as pension funds, foundations, pension schemes, insurance companies and family offices, with sales authorization for Germany and Luxembourg.
About Ventusolar Global Capital (GmbH)
VENTUSOLAR GLOBAL CAPITAL GmbH is a German-Canadian company and has its head office in Munich, Germany. The main shareholders of the company are the management partners along with an institutional shareholder, the Gabler-Saliter Bankgeschäft AG. VENTUSOLAR GLOBAL CAPITAL GmbH is an investment advisor with an experienced management team. Together with its partners, VENTUSOLAR GLOBAL CAPITAL provides institutional investors with access to Renewable Energy assets. VENTUSOLAR's network includes local project developers, authorities and energy suppliers as well as international EPCs (engineering, procurement and construction) and manufacturers of solar panels and wind turbines.