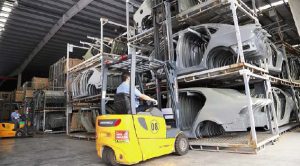 Shanghai. Jungheinrich trucks have become a familiar sight at the new Zhongwei Packing central warehouse, although two years ago the Shanghai-based company had never heard of the Hamburg-based intralogistics specialist. The company's decision to invest in Jungheinrich equipment was driven by a key client's recommendation and its own ability to think big.
Strategic vision was always a strength of Shanghai-based Zhongwei Packing. For many years this logistics specialist has operated VW Shanghai's central warehouse for spare and subcontracted parts, having transferred operations just last year to a new, expanded venue in the west of the Chinese metropolis. "The new logistics centre was necessary not just because of China's economic growth, but also and especially because of the immensely expanded range of VW products," explains Haifeng Wang, head manager at the Zhongwei Packing Central Warehouse. "Buying this property at the right time was the right strategic decision."
Occupying a total of 40,000 square metres of floor space, the new central warehouse was commissioned in March 2013. Around 160 warehouse employees there guarantee the punctual and accurate delivery of goods to their more than 200 customers in eastern China and Shanghai. Brought in daily on big 40-tonne trucks, the extremely large variety of incoming goods are unloaded, checked and stored at the warehouse. Delivery to the client takes place directly after an order is received, with the goods being transported on small-sized trucks. "We store the parts here for a maximum of one month," says Haifeng Wang.
A special feature of the Zhongwei Packing warehouse, which is divided into several different sections, is its "pallet-free" storage principle: Whether they are stored in the two high-rack warehouses or the "normal" warehouse, all goods reside in special lattice boxes, each one measuring around two Euro pallets in size. Zhongwei Packing Shanghai stores more than 10,000 lattice boxes at the facility, filled with nearly every conceivable VW subcontracted part. (As Haifeng Wang puts it: "We store everything here except tyres"). An exception with regard to the lattice boxes involves large car body parts, which are stored in their own specially designed area.
Robust, Reliable Stackers
Haifeng Wang takes us to this special area of the warehouse and shows us a stacker which has loaded virtually the entire left side of a VW Polo on its forks, before taking a sharp turn and storing the large body part safely and gently into the rack. "These are punishing operations – not just here, in this section, but throughout the warehouse. At the same time they involve handling expensive, high-grade parts," Haifeng Wang  explains. "That is why we require easy-to-operate, yet at the same time robust and highly reliable forklifts."
This, he remarks, is why his company decided in favour of Jungheinrich last year. The recommendation came originally from VW, but the farsightedness in making the long-term investment came from Zhongwei Packing. "No, we didn't know Jungheinrich before that, but after some intensive consultation and visits to reference clients we were able to make a highly conscious decision," reports Haifeng Wang, adding that "after more than two years of experience in the field, we are very, very satisfied! Not just with the trucks, but also with the entire cooperation between Jungheinrich and ourselves." Haifeng Wang emphasises: "The extremely fast reaction time of the Jungheinrich after-sales crew sets a benchmark for the entire industry."
Tailored to the Requirements of Zhongwei Packing
Some 40 Jungheinrich trucks currently guarantee smooth logistics at the central warehouse, including four EKS 210 order pickers in a section of the high-rack warehouse. "Jungheinrich especially developed these trucks to handle the growing diversity of items at major warehouses around the world – including Zhongwei Packing – at the same time as batch sizes per order continue to diminish," explains Xiong Wei, Technical Supervisor at Jungheinrich China.
In practice this means that the required goods for an order need to be picked and delivered faster than ever.  This means tougher requirements in terms of flexibility, order picking quantity and time. According to Xiong Wei, the EKS is tailored to the needs of Zhongwei Packing – a sentiment vigorously seconded by Haifeng Wang, who adds: "We were especially convinced by the numerous safety functions these trucks have to offer – something which is unrivalled by comparable stackers, even ones made in Germany."
There are many other types of forklifts in operation at the Zhongwei Packing central warehouse – from electric low-platform forklifts to reach trucks and electric counterbalanced forklifts. One thing these trucks have in common is that they are all produced at the local Jungheinrich plant. "Here we are producing modern, energy-efficient industrial trucks to European standard," states Xiong Wei. And Haifeng Wang agrees, remarking that "the quality of these trucks is just as good as the ones we order directly from Germany. We cannot see any difference between them."
In August 2013 Jungheinrich commissioned a new plant in Qingpu, in greater Shanghai. This plant develops and produces pedestrian-controlled industrial trucks as well as electric counterbalanced stackers and reach trucks for the entire Asia-Pacific region. Just a few of the trucks from Qingpu which are in use at Zhongwei Packing include over two dozen electric counterbalanced trucks with lifting capacities between 1,600 and 2,000 kilogrammes. As is the case for all other trucks, these are equipped with the latest generation of Jungheinrich three-phase A.C. technology. According to Xiong Wei: "Our electric stackers are not only extremely agile, but also consume very little energy, thanks to the new three-phase A.C. technology and the high degree of efficiency." The Jungheinrich trucks also feature regenerative braking, which feeds the energy from braking back into the battery. It is as if, remarks Xiong Wei, "the diesel consumed by a car engine were to trickle back, drop by drop, into the fuel tank."
Haifeng Wang is still standing in the part of the warehouse where the electric counterbalanced truck from Jungheinrich has loaded in "half a VW Polo". Opposite this hall is the – highly visible – charging station for the battery-powered stackers. The three-phase A.C. technology from Jungheinrich makes it unnecessary to change the battery, despite the punishing operations. "A single overnight charging session is more than sufficient," says the warehouse manager.
He then points to the empty field behind the charging station, explaining that his company had already purchased the land to enable future expansion. As soon as it becomes necessary, Shanghai Zhongwei Packing will erect an additional warehouse on this plot of land. The size of the entire warehouse complex will then grow to some 70,000 square metres of floor space – a further far sighted investment.
jak – 2015