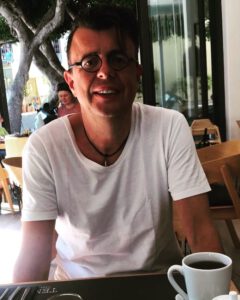 Jan Kaulfuhs-Berger
HART FACTS
Salesman. Engineer. Journalist.
Born and raised in Dresden, Germany
University studies in Dresden and Barcelona
Currently living and working in Munich, Berlin and Bangkok
Active as a journalist since 1985, including for daily newspapers and youth and city magazines
Employed in the logistics/intralogistics sector since 1999, including several positions at Huss-Verlag publishers in Munich and a 12-year stint as press spokesperson for Jungheinrich in Hamburg, Germany
As of September 1, 2016: Founded elements of journalism
SOFT FACTS
My Dresden roots
For the first few years of my life, my family and I had the privilege of living in downtown Dresden. There, here we had a direct view onto the premises of the local newspaper (Sächsisches Tageblatt), where my father worked as a journalist for almost 30 years. Maybe this was what later inspired me to go into journalism. Later we moved to the southern part of town, where we had an outstanding view of several outstanding institutions of higher learning, including the Dresden Technical University and Dresden University of Applied Sciences. Whether this inspiring view is what inspired me to enroll at those places subsequently is anybody's guess…
School days
Hmm. Let's see. I attended our local polytechnic high school, but they the East German authorities had already run out of famous socialists to name the school after. So they picked something safe – the "Gottfried Semper School", giving us a direct line to the world-famous Semper Opera House. When it reopened in February 1985, our 10th grade class was given the task of performing the final cleanup work there. This was not something we were thrilled about at the time, although it has made for a good story over the years. This may or may not be the reason why I later developed a love for classical music (among other genres).
Journalistic baby steps
OMG. Actually, it all began at the youth desk of Sächsische Zeitung newspaper, back in the mid-1980s. I had a letter from the editor in chief there saying people should support us, as we were just getting our feet wet as journalists. What I remember most was a visit from East German DJ star "Wolle" Förster – bleached blond hair, openly gay. This may or may not be the reason… but, No!
My budding career
Making a career choice to become a professional journalist in former East Germany? Fahgettaboudit! So instead I decided to enroll in a training program as a salesperson. This was unusual for a boy back then – girls greatly outnumbered us at my school; the ratio felt something like 500 girls to 20 boys. As we boys were evenly distributed over the different classes, each of us had his own rule of the roost – but not a single person to talk soccer with! After initially focusing on wholesaling I went on to retailing (at the Youth Fashion Center in Dresden, again giving me the rule of the roost). And then – voilà – the wall came down, and I was able to go back to working for newspapers again. I can confirm that this was the deciding factor!
My start as a journalist
Well, okay – you don't become a journalist merely by signing on at the Dresdner Neueste Nachrichten (DNN). My first job was on the publishing end of things, then I moved on to the design department, where I was able to create the page layouts using a classic light table. Ironically, my journalistic career didn't actually begin until I left the paper to become a freelance contributor to DNN. My first story was a travelogue on Sierra Leone (some people do this kind of thing at the end of their careers). This kicked off my career as a journalist – and laid the foundation for my wanderlust.
My professional career
That heading may sound a bit old-fashioned, but we need to talk about it. So, I trained initially as a salesman, then got my A levels taking evening classes. I then enrolled at the Technical University of Dresden, majoring first in Communications and Political Science, then "International Manufacturing Engineering Studies" at the Dresden University of Applied Sciences Dresden and the Universitat Politecnica de Catalunya in Barcelona. After getting my degree in engineering, I hired on as a project manager at the Institute for International Research (Logistics Dept.), then worked in various functions at Huss-Verlag publishers in Munich. In 2003 I went into industry as a trade press spokesperson – a position which not only took me to Hamburg for 12 years, but also across the globe. These trips were the source of many of the stories which you'll find on the start page.
elements of journalism
In the summer of 2016 I founded "elements of journalism" – an international press office which is dedicated to supporting the basics of fair and accurate journalism.