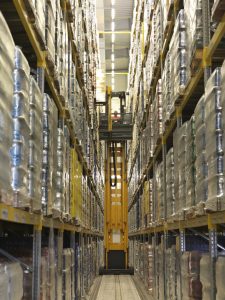 La Valetta. If you don't have much land to build on, you build upwards. This is particularly true for a small country like Malta. This was one of many reasons why, when it came to building a new warehouse, Malta's market leader for beverages, the Simonds Farsons CISK plc brewery decided to go with the classic narrow-aisle option. High rack stackers from Jungheinrich are now responsible for ensuring smooth operations there.
In Malta, the area is scare. Therefore, Simonds Farsons Cisk is building upwards. Actually, Malta used to be more of a wine than a beer drinking nation. But a series of external influences, mainly the stationing of British soldiers there, created a gradual shift in favour of beer. In the early 1920s, the then Farsons & Son Ltd. company built the small Mediterranean island's first brewery in the town of Hamrun, producing Malta's first locally brewed beer. The first Farsons Pale Ale hit the market in 1928. This not only had a tremendous impact on Malta's budding beer culture, but on the nation's industry as a whole.
Farsons built a new brewery in 1950, which it has continually modernized ever since. Currently production extends over an area measuring more than 24,000 square meters. "For a long time we were just a traditional brewery," explains Paul Micallef, Chief Operations Officer at Farsons.
Completely New Brewery in Planning
In 1952 the company developed its first proprietary soft drink named "Kinnie" and launched the production of soft drinks for export. Later Farsons began to produce the first Maltese bottled water and fruit juices under license. These products are sold today throughout Malta, as well as in neighbouring countries like Italy, Greece and Egypt.
After inaugurating a state-of-the-art beer brewing block in 1990, the company opened a new warehouse and distribution centre as well as a new soft drinks packaging hall in 2008. This project involved an investment sum of around 10 million Maltese lira (approx. 25 million euros). According to current plans, by the end of 2012 the company will have constructed and inaugurated a brand new brewery.
Number of Dealers Reduced
Farsons' decision to erect its own warehouse and distribution centre led to a simultaneous decision to gradually reduce the number of dealers. "We initially cut the number of dealers from 13 down to eight, then from eight down to five," reports Albert Calleja, the company's Chief Development Officer. Since 2008 Farsons has been operating with just one exclusive dealer for the island of Gozo, part of the Maltese archipelago located six kilometres northwest of the main island.
According to Calleja: "By reducing the number of dealers and building our own warehouse, we can now exercise complete control over our warehousing and distribution process. As a result, we can maintain our high quality standards, which is essential nowadays in order to survive."
Jungheinrich as Partner Already Known
Building the warehouse involved navigating a few shoals and mastering a number of challenges. On the one hand, there was the issue of scarce, i.e. expensive land in Malta. Since the company owned land in the direct vicinity of the brewery in Mriehel, the decision was taken to erect the warehouse and distribution centre there. "We didn't have any experience in the many things that needed to be considered when building such a warehouse," confesses Paul Micallef. "In our case we were able to rely on the help of several competent external partners."
One of those partners was Jungheinrich. The Hamburg-based company supplies Malta with industrial trucks through its exclusive dealer Mekanika. "We were already familiar with Jungheinrich," reports Calleja, "and as a result, decided to contact Mechanika about our requirements." The cooperation began with some informal brainstorming which immediately resulted in a tentative warehouse layout. "We also received lots of very helpful support from Jungheinrich in terms of the technical specs for our new warehouse," reports Calleja.
"Technology which had never been employed in Malta before"
"Although block or channel storage warehouses are typical in the beverage industry, two key parameters were critical in planning this project," explains Thomas Peters, a Jungheinrich project engineer who was heavily involved in designing the layout of the new Farsons warehouse.
On the one hand, Farsons wanted and needed to build the warehouse vertically due to the small size of the site and above all its position on a hillside, which all but ruled out the construction of a block storage warehouse. On the other, the operators wanted to ensure all goods would be directly accessible, which argued against a channel storage warehouse. And so, together with Jungheinrich, the decision was made to construct a narrow-aisle warehouse.
Layout for the Complete Warehouse
"We were a bit nervous about that solution at first," admits Calleja today with a chuckle. In the first place, the plan involved technology which had never been employed in Malta before, including the operation of high-rack stackers. In the second place, it quickly became evident that staff members were, as Calleja puts it, "initially less than enthusiastic" about working on a high-rack lift at a height of up to 15 metres, adding: "We actually did seriously look into the possibility of deploying 'man-down' equipment," he says, referring to the type of lift where the driver stays at the bottom.
"We were quickly able to dispel any anxiety about the narrow-aisle warehouse," recalls Peters today, elaborating that both parties thoroughly looked into the topic and "discussed all the necessary details at a relatively early stage." After supplying the layout for the complete warehouse, Jungheinrich was ultimately commissioned to deliver narrow-aisle trucks and install the requisite induction guidance system.
11,000 Pallets on 5,000 Square Meters
The new Farsons warehouse and distribution centre is around 5,000 square metres large and can store more than 11,000 pallets. Apart from a smaller section for exquisite wines and spirits, which is maintained at a constant temperature of 15 degrees Celsius, the beer and soft drinks produced right next door are stored in a divided bulk warehouse.
"The beer storage section has a constant temperature of 21 degrees Celsius", explains Christopher Borg Cardona, Distribution Manager at Farsons (Sales & Marketing) Ltd. "We also need to filter the light in this section," he adds, "since the ultraviolet rays there can negatively impact the quality of the beer, which is filled in clear-glass bottles."
"Truck can easily lift goods up to a height of 15 metres"
To guarantee efficient stock storage and removal procedures, Farsons now relies on narrow-aisle trucks from Jungheinrich. Whereas for the wine and spirits section Farsons deploys an EKX 410 three-way stacker and order picker, for the highly demanding requirements in the bulk warehouse it uses three Series 5 stackers, which were first brought to market in 2007.
The trucks deployed in the bulk warehouse consist of the EKX 515 model, with a lifting capacity of 1,500 kilograms. "This truck can easily lift goods up to a height of 15 metres," explains Gilbert Debono, Sales Manager for Industrial Products at Jungheinrich dealer Mekanika. "Due to the 80-volt three-phase AC technology, these trucks are especially high-performance, which is enormously important, particularly in the beverage industry."
Developers Placed a Premium on User Ergonomics
The developers of the EKX 515 (also referred to as a "combi" i.e. combined stacker because the operator can use it for stacking as well as for order picking) placed a premium on the user ergonomics, explains Christian Lammek from Jungheinrich's dealer support team for southeast Europe.
"A generously sized entrance allows the driver to climb comfortably into the spacious driver's cab. He also excellent visibility towards the track and load due to the extremely low swivel shift guidance and the free lift masts", he comments. Driver comfort is enhanced by a cushioned, adjustable folding seat which comes optionally with heater and lumbar support.
Much Greater Measure of Comfort and Safety
The significant edge in terms of comfort and safety offered by the EKX 515 has also been observed by Christopher Borg Cardona. A switchless two-handed operating concept is just one of the features responsible for this. At the centre of the workplace is an electrically adjustable operating console. As the central control and information unit, this provides a number of innovative performance characteristics, such as colour display and soft-touch keys with membrane numeric keypad.
"The operator can call up individually adjusted travel programs via an access code," adds Debono. Switchless sensors register the operator's touch and transmit this information to the onboard computer.
High Quality of Warehousing and Distribution Processes is Guaranteed
"Drive and hydraulics are controlled by thumb movement," explains Lammek. The continued high quality of warehousing and distribution processes at Farsons is guaranteed — all project participants are unanimous on that score. And this definitely has to do with the deployment of the high-tech combi stackers from Jungheinrich.
"Even if we were not immune from a few start-up problems which are almost obligatory for a complex project of this kind," recounts Calleja with a smile. But Jungheinrich, reports the manager, always turned up instantly whenever problems with the initial software implementation cropped up.
Technicians are Always Available on Call
For this and other purposes, Jungheinrich has its own engineers on call, who are capable of reaching virtually any site in the world within a span of 48 hours. One of these engineers is Rudolf Kornbauer. Based in the Bavarian town of Moosburg, where the EKX 515 stackers are produced, his ability to solve the implementation problems not only elicited the enthusiasm of his co-workers, but also the management team at Farsons.
As Albert Calleja puts it: "We were surprised at the precision with which someone could master the complexity of this equipment!" This enthusiasm continues unabated. Farsons has already ordered an additional EKX 515 order picker/trilateral stacker from Jungheinrich.
jak – 2010