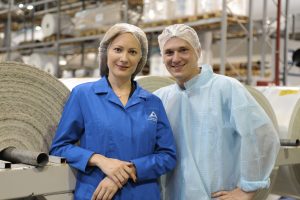 Moscow. The packaging manufacturer, Alcan, relies on the support provided by Jungheinrich to fulfil its logistics activities in Russia. The rental stackers provided by the Hamburg company ensure financial flexibility for Alcan.
Alcan's principles: Environmental protection, safety and health
"It was clear to us from the beginning that the only way to ensure our high quality standards was by using professional partners," says Irina Kozhemyakina. Whilst preparing the bid, a series of requirements was formulated regarding the selection of suppliers – from environmental protection to safety in the company to the health of the employees.
"Of course we undertook investigations in the run-up," says Ms. Kozhemyakina, "what type and how many trucks we need." This was necessary, among other reasons, because there are many different materials and goods of various sizes being produced at Alcan. The Logistics Manager: "Jungheinrich has made us a very good offer in this respect – not only in financial terms but also in regard to the equipment. For example, we need special equipment to transport rollers, clamps, which many companies could not offer us." It was only logical that Jungheinrich receive the order.
Jungheinrich rental fleet: No interest, no service charges, no follow-up costs
Alcan uses solely rental trucks. "In addition to financial flexibility, there are a number of reasons to hire fork lift trucks," explains Luuk Snijders, head of hire and used equipment at Jungheinrich Russia. One of the examples give by the manager is the fact that interest, depreciation, insurance and service costs are already covered by the hire rate. In addition, the majority of vehicles in the Jungheinrich rental fleets are less than a year old, ensuring that the customer always has the latest technology available.
Snijders: "Alcan, therefore, has complete planning reliability with regard to the costs and the individually agreed upon contract period." Equity protection and tax allowances also provide the customer with considerably more resources for other internal investments, as the company's budget would not be burdened by renting-related investments.
Jungheinrich Russia has a rental fleet of over 700 vehicles at various locations throughout Russia. "This means we are able to provide our customers with fork lift trucks and pallet trucks at short notice during seasonal fluctuations or during unexpected volumes of transport," adds Snijders. If required, Jungheinrich Russia can also draw from a worldwide fleet of 25,000 Jungheinrich fork lift and pallet trucks.
"The range provided by Jungheinrich offers us a very economical solution with extremely low conditions of payment," says Irina Kozhemyakina. The employees are also satisfied in terms of technical standards. In-house analyses showed that "the perfect steering ability of Jungheinrich's trucks, the ride comfort and the excellent readability of the display were particularly highlighted by all truck drivers."
But there was one factor that impressed the logistics specialists at Alcan the most. Irina Kozhemyakina: "If there is ever a problem, one call is all that's needed." The response time in such cases has been less than an hour, the problems being solved within 24 hours. "This is something we have never experienced before in Russia!"
The overall impression of Jungheinrich left on Alcan Istra was not just "a guarantee of continuing fruitful collaboration between the two companies," as Zhanna Zhdanova, responsible for Communications and Marketing at Alcan Packaging, expresses. It is clear that this cooperation will also benefit the group as a whole. Indeed, the Moscow-based daughter company was quick to recommend the mother company in Paris to rely on the possibilities offered by Jungheinrich in the future.
jak – 2009